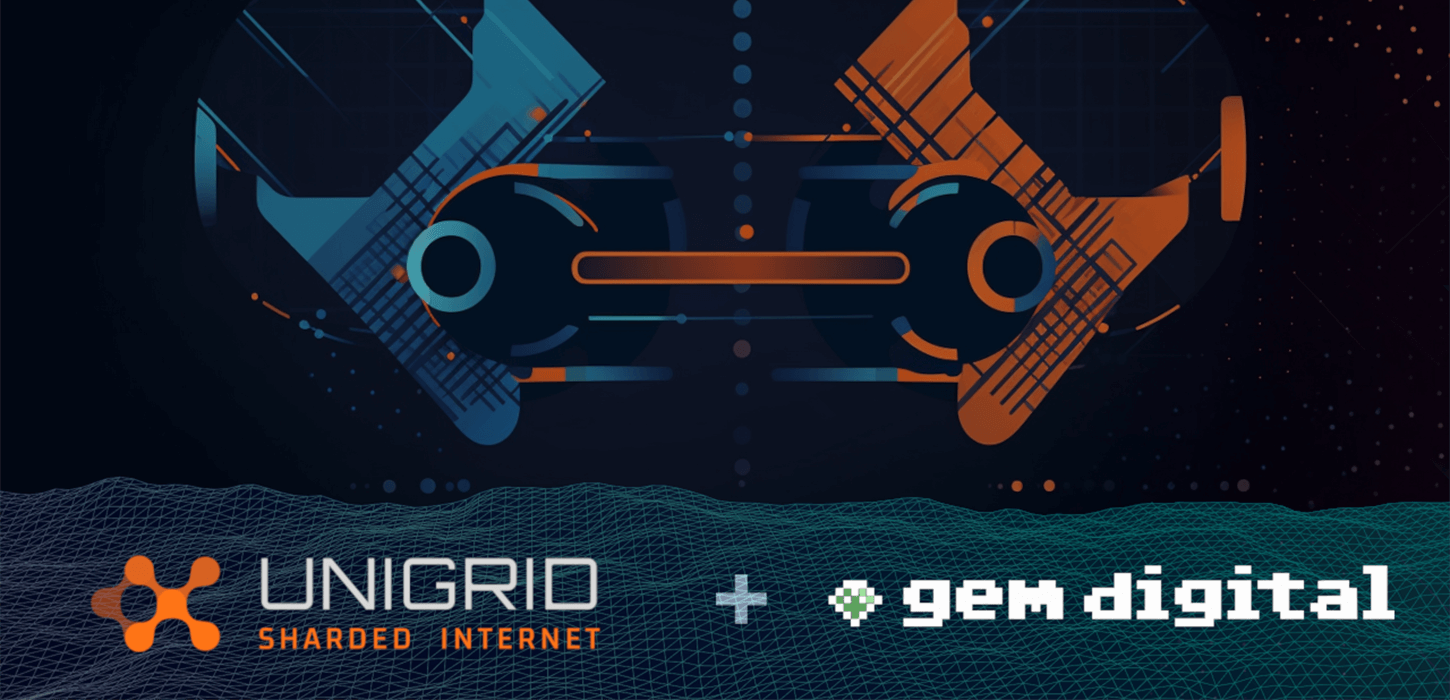 Unigrid, a pioneering force in developing a decentralized and anonymous internet, is pleased to announce a major milestone, new strategic partnership and ambitious market positioning. Unigrid recently received a US$25 million investment commitment from GEM Digital Limited. Additionally, Unigrid has partnered with WeSendit, the world's first file transfer service specializing in anonymous data transfers and decentralized storage solutions.
Unigrid is expected to be a strong European alternative to major providers such as Amazon AWS and Google Cloud. Unigrid CTO Adam Waldenberg highlighted the transformative power of blockchain technology in ensuring information permanence, fundamentally reshaping the cloud industry. Enterprises will be able to leverage Unigrid to deliver and store data at a lower cost compared to traditional cloud providers such as Amazon AWS, resulting in substantial savings.
Unigrid's innovation stems from the underutilized storage capacity of many European data centers. By leveraging their blockchain node technology, Unigrid taps into this vast reservoir that was previously seen as virtually inexhaustible. Their smart blockchain application ensures secure data encryption and organization. Unigrid's pioneering 'plug and play' approach enables businesses to effortlessly monetize their available storage capacity, especially during off-peak hours. This approach not only optimizes the use of idle server capacity, but also provides businesses with an additional revenue stream. Customers benefit from cost-effective cloud services and Unigrid foresees significant future growth opportunities. Even with just a 0.1 percent market share in the global cloud business, CEO Evan Green expects a potential turnover in the hundreds of millions.
The substantial commitment of GEM Digital Limited is a testament to the potential of Unigrid and the unwavering dedication of its team. It also marks a strong vote of confidence from a team with a deep understanding of the digital asset space and global reach.
Unigrid's partnership with WeSendit marks an important step in its mission to revolutionize the Internet. WeSendit has been offering its file transfer service since 2014 and since then has won over 3 million customers including global brands like Nike, Facebook, DreamWorks and Red Bull. The new platform WeSendit 3.0 and its core component, the $WSI token, marks the company's transition from Web2 to Web3. WeSendit's interdisciplinary team is developing a new generation of decentralized data processing tools that will encourage users to explore the benefits of a decentralized internet. WeSendit's decision to use Unigrid's decentralized storage products for its Web3 storage solution underscores the transformative power of Unigrid's technology.
This commitment has ensured Unigrid's broad market launch this year, driving its growth and market development. Unigrid is open to additional seed commitments and private sales, with strategic guidance and expertise from Valuex AG, a renowned strategy and blockchain technology expert.
Unigrid is at the forefront of the next internet revolution, offering a truly decentralized global network free from geographic restrictions and centralized control. Unigrid's innovative solution is a game-changer in cloud infrastructure, providing a fully anonymous and attack-resistant network.
For more information on Unigrid, please visit https://www.unigrid.org/. For more information about GEM Digital Limited, please visit https://www.gemny.com/. For more information on WeChat, please visit https://linktr.ee/wesendit.
About Liange
Unigrid is creating a decentralized and anonymous cloud service, free from centralized control and resistant to attack. Unigrid is committed to delivering a network that changes everything forever.For more information, please visit
About GEM Digital Limited
GEM Digital Limited is a digital asset investment company. Based in the Bahamas, the company is actively sourcing, structuring and investing in utility tokens listed on over 30 CEXs and DEXs around the world. Global Emerging Markets ("GEM") is a $3.4 billion alternative investment group with offices in Paris, New York and the Bahamas. GEM manages a range of investment vehicles focused on emerging markets and has completed over 530 transactions in 72 countries. https://www.gemny.com/.
About
WeSendit is a Swiss file transfer service company specializing in anonymous data transfer and decentralized storage solutions. The company has been a successful Web2 file transfer provider for almost 10 years and has now entered the Web3 era. Powered by the $WSI token, the new platform, WeSendit 3.0, will help the world transition to the decentralized internet of the future.For more information, please visit
press contact
(email protected)
Disclaimer: This is a sponsored press release and is provided for informational purposes only. It does not reflect the views of Crypto Daily and is not intended to be used as legal, tax, investment or financial advice.