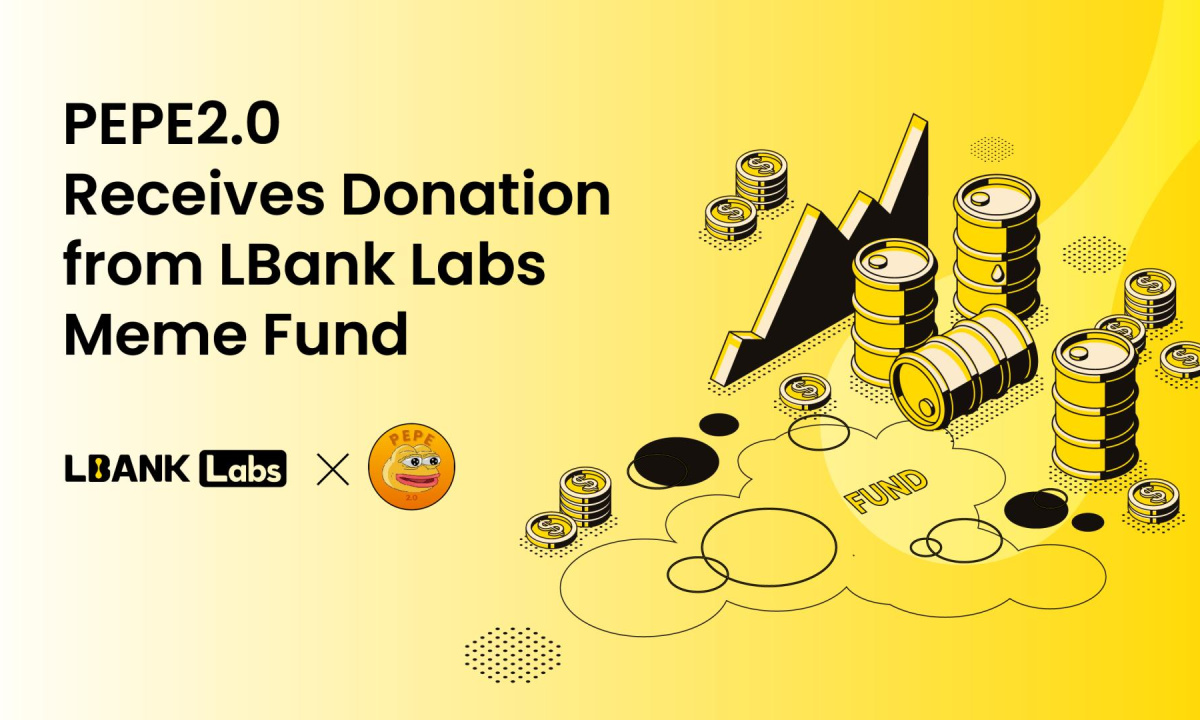 Road Town, British Virgin Islands, 21 July 2023, Chainwire
PEPE 2.0, an ambitious project inspired by the iconic Pepe the Frog meme to build a decentralized marketplace for digital art and collectibles, has received a donation from LBank Labs Meme Fund. The Meme Fund is a public welfare program initiated by LBank Labs with a fund of US$10 million, which aims to promote the development of high-quality and innovative Meme projects, stimulate industry growth, and benefit the broader community.
PEPE 2.0 is a project originating from meme culture, dedicated to building a decentralized market for digital art and collectibles using blockchain technology. Our effort is to ensure transparency, provable scarcity, and provenance of items within the platform. The move fits with contemporary trends in digital art and collectibles, making it a noteworthy development in the world of meme projects.
The LBank Labs Meme Fund is a $10 million fund dedicated to giving donations to various meme-based projects. Projects meeting certain criteria can apply for and receive donations from the Meme Fund without any preconditions, thereby fostering growth and innovation within the Meme ecosystem. The LBank Labs Meme Fund and these innovative meme projects are part of an ecosystem dedicated to the expansion and growth of the meme token industry, highlighting the potential of these tokens to become fully functional DeFi platforms. The partnership between LBank Labs Meme Fund and PEPE 2.0 is expected to continue and an update is expected in due course.
The LBank Labs Meme Fund continues to source innovative and quality-driven meme projects around the world, a move that reflects its engagement with the global meme project landscape.
To apply for a Meme Fund grant: https://www.lbanklabs.com/contact-8
LBank laboratory official website: https://www.lbanklabs.com/
About LBank Lab
LBank Labs is a well-known player in the web3 space, managing a $100 million multipurpose fund that extends beyond specific protocols and exchanges. They have a team of experienced web3 veterans from well-known entities, building an extensive expertise and network. Their investment strategy includes fund-of-funds investments, direct investments in early-stage projects, and liquidity programs, allowing them to explore diverse opportunities. LBank Labs actively promotes their investment thesis "Another Angle" by participating in discussions and focusing on PSE principles to promote sustainable growth and innovation in the web3 space. LBank Labs' Fund of Fund network consists of 12 funds with over $1 billion under management and offices in seven regions around the world, enabling it to expand its network and drive innovation in the web3 ecosystem with its partners and collaborators .
touch
LBankLaboratory
(email protected)