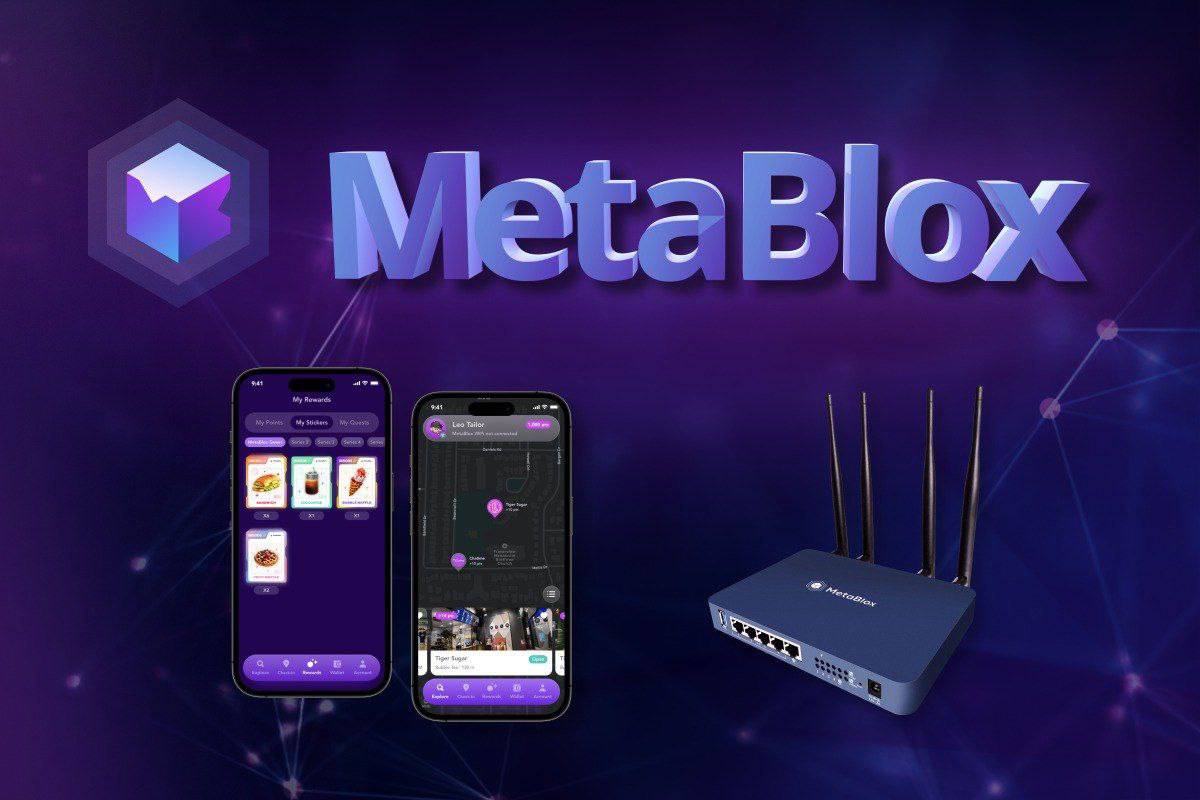 Decentralized identifiers (DIDs) hold enormous potential to reshape the future of the internet, bringing about a revolutionary approach to verifying our digital identities. As we witness the emergence of Web3, a paradigm shift from a platform-centric to a user-centric web, the path to achieve this transition remains murky. The key to a user-centric network is for users to define their own identities and determine what information they wish to share with others.
After years of unwavering dedication, Metabrox The team released a breakthrough protocol that uses DIDs to provide a decentralized foundation for creating user-centric networks. The team is working hard to build the foundation of a web3 user-centric web to support web3 native applications.
The MetaBlox Network mobile app represents a major step towards this lofty goal. With the software, users can take the first necessary step to access a free, privacy-preserving WiFi network by registering a DID and automatically uploading it to the blockchain, and in the process earn mPoints that can be used for further development of the network.
The platform has many advantages that make it stand out. First, the team believes the most compelling aspect of MetaBlox is that it is a user-centric network powered by a reward system for users and builders. MetaBlox hopes to emulate the prosperous Web 2.0 period, during which well-known companies offered their services for free to demonstrate the effectiveness of their monetization schemes.
In Web 3.0, MetaBlox seeks to replicate this prosperity with a striking difference. MetaBlox positions itself as a decentralized solution that enables users and network maintainers to be rewarded, rather than just generating profits for private entities. Unlike the Helium network with LORA technology, MetaBlox operates as a WiFi network, providing the bandwidth needed to accommodate many users, thereby greatly expanding the monetization opportunities for all relevant stakeholders.
Powering User-Facing Web3: MetaBlox's OpenRoaming Initiative and Decentralized Connectivity
MetaBlox's decentralized OpenRoaming WiFi network has made great strides in creating a user-facing Web3. Several major Web3 investing companies and organizations have donated over $2 million to the initiative. The OpenRoaming network scales the global WiFi network by deploying hundreds of MetaBlox miners as blockchain nodes, allowing secure, passwordless, automatic connections using decentralized identifiers (DIDs).
To create an OpenRoaming network with over one million access points, MetaBlox partnered with the Wireless Broadband Alliance (WBA). Their technology was also successfully showcased at the WBA Wireless World Congress.
Users can now create their own WiFi OpenRoaming profiles and access Web3 capabilities using the newly released software. Notably, MetaBlox collaborates with other projects such as Harmony, Caldance, Memolabs, and Deeper Network to achieve its goals.
MetaBlox Network's Blockchain Integrations for DeFi, GameFi and NFTs
MetaBlox Network uses blockchain technology to significantly improve the quality of its products and services. Thanks to blockchain technology, users' hotspot routers can double as crypto miners, earning tokens by providing WiFi access. Through this decentralized deployment method, MetaBlox Network can steadily increase its global presence and influence as an incentive for network development.
Furthermore, the combination of the MetaBlox network and blockchain technology unlocks many novel possibilities. Decentralized Finance (DeFi) platforms, GameFinancial (GameFi) ecosystems, and NFT marketplaces can all be accessed confidentially and securely by users. Individuals can make money with digital assets by participating in mining and staking activities on DeFi networks. At the same time, the system provides unfettered access to the ever-growing GameFi and Play-to-Earn gaming universe, and provides strong security through blockchain-held credentials instead of older passwords.
MetaBlox Network was developed in response to the rapidly growing NFT industry, providing users with simple access to NFT marketplaces and wallets using DIDs. The company has built collections of utility-based NFTs, seen on major platforms like OpenSea, as evidence of its commitment to the blockchain ecosystem. MetaBlox Network aims to adapt to the new digital environment by integrating Web3, Metaverse, 5G deployment, DeFi and DID-based technologies to provide a truly user-centric experience.
MetaBlox's $MBLX token and its role in decentralized web development
MetaBlox strives to create a user-centric, open and free system for anyone who wants to use it. To encourage the development of a native Web3 network (in line with this goal), the $MBLX token was introduced.
Businesses that want to sell goods or provide services within the MetaBlox ecosystem are the primary target users of the $MBLX token. These companies actively contribute to the development of decentralized ownership within the next generation of wireless networks by earning and using $MBLX tokens.
The key advantage of the $MBLX token over competing tokens is that it is designed around Web3 users' insatiable curiosity about the platform's capabilities. Once these customers adopt $MBLX, they can take advantage of all the services that the Web3 ecosystem has to offer.
Founding members of MetaBlox and their technical excellence
The first MetaBlox team consists primarily of employees from leading organizations that are founding members of the consortium, located in North America and Asia. These businesses focus on developing and implementing state-of-the-art technologies, including blockchain, IoT, telecommunications, artificial intelligence, and financial services. Alliance members range from large public companies to small innovative startups, but they all have one thing in common: a desire to build a Web3 network that puts users' needs first.
Over the past four years, the Nation Alliance has made considerable progress and made remarkable achievements. They have partnered with the Canadian federal government to develop the first blockchain project as well as other groundbreaking projects. They are the first teams to combine blockchain technology with eSIM and Bluetooth chips, further differentiating themselves.
Notably, the members of the alliance are active contributors to the Decentralized ID Foundation. This demonstrates their commitment to promoting the use of decentralized identity systems. WiGig is the broadband version of WiFi, and alliance members are one of the few companies in the world able to use the technology. Their proficiency with WiGig technology allows them to offer reliable and fast wireless networking options.
Their work on the development of artificial intelligence is another major achievement of the original alliance members. They are pioneers in AI edge computing, designing and producing one of the first system-on-chip (SOC) devices. This technological advancement brings high performance and intelligent computing capabilities to the network perimeter, enabling instant data processing and analysis.
Members of the alliance have invested heavily in several high-profile initiatives in the decentralized finance (DeFi), game finance (GameFi) and non-fungible token (NFT) space, demonstrating their commitment to the development of these industries, not just technical means. Investing in promising startups like 1inch and Axie Infinity demonstrates their commitment to fostering the growth and development of the nascent blockchain industry.
final thoughts
The advent of decentralized identifiers (DIDs) has the potential to reshape the future of the internet by revolutionizing the way we verify digital identities. With the advent of Web3, moving from a platform-centric to a user-centric web, the MetaBlox team has made significant progress in developing a protocol that utilizes DIDs to build a decentralized foundation for a user-centric web. Their commitment to building web3 native networks that support user-centric applications is reflected in the MetaBlox Network mobile application.
Disclaimer: This article is for informational purposes only. It does not provide or be intended to be used as legal, tax, investment, financial or other advice.