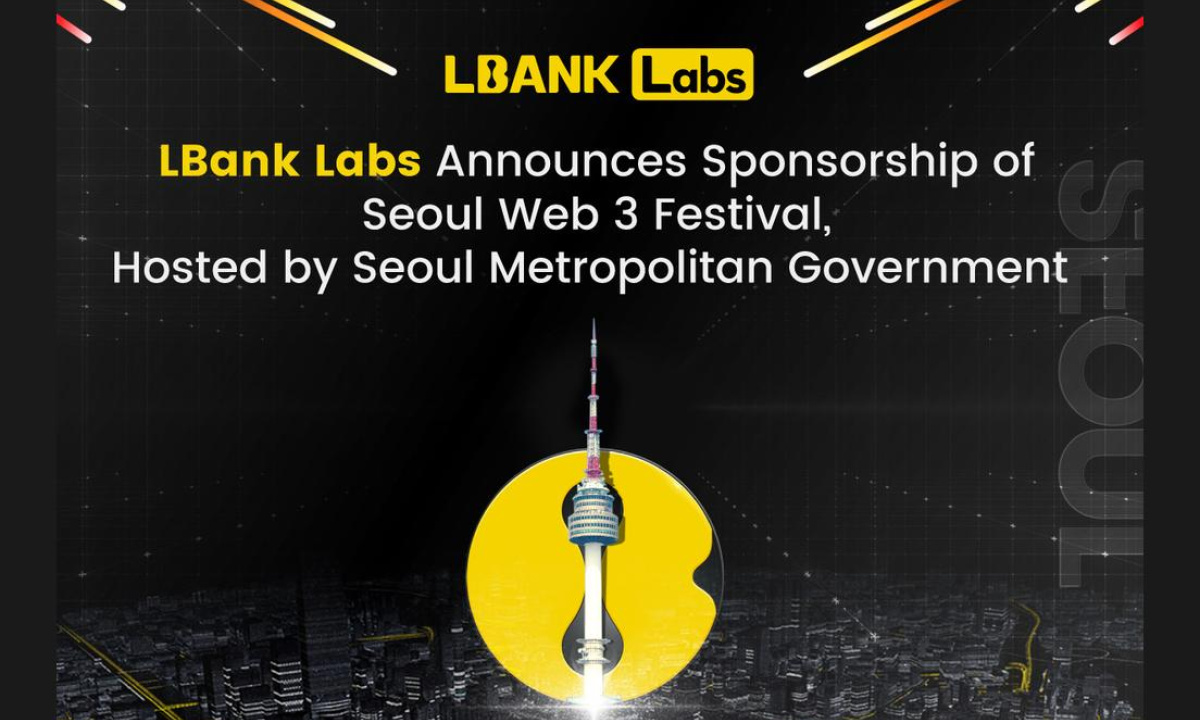 Road Town, British Virgin Islands, 16 June 2023, Chainwire
Leading Web3 venture fund LBank Labs is pleased to announce a prestigious partnership with Seoul Web 3.0 Festivalhosted by Seoul Metropolitan Government, Seoul Design Foundation and Baobab Partners.
The Seoul Web 3.0 Festival is a key platform for industry leaders, innovators and policy makers to explore the revolutionary potential of Web 3.0 and how the technology can be used in public services. LBank Labs is proud to contribute to this important conversation by being a key partner of the festival and showcasing the cutting-edge projects it supports.
The festival will be held from July 31 to August 2 at the iconic Dongdaemun Design Plaza, known for its neo-futuristic architecture. During the three-day event, representatives of mainstream Korean blockchain projects will be invited to discuss hot topics such as DeFi, NFT, and Metaverse with the Seoul Metropolitan Government. The hosting of the Seoul Web3 Festival marks a new phase for the Korean blockchain ecosystem.
The event boasted an impressive line-up of attendees, including public figures such as Seoul Mayor Oh Se-hoon and prominent South Korean policymakers. LBank Labs eagerly looks forward to the opportunity to further interact with these valued guests, exchange ideas, and collaborate on future-proof initiatives to promote the widespread adoption of blockchain technology.
As the main sponsor and partner, LBank Labs will host an interactive party where visitors can interact with experts, explore innovative solutions, and learn more about the transformative power of blockchain technology. In addition, LBank Labs will provide insightful presentations and participate in panel discussions, sharing valuable expertise and insights into the potential of Web 3.0.
LBank Labs' participation in the Seoul Web 3.0 Festival underscores its commitment to fostering innovation and advancing the adoption of blockchain technology. By partnering with the Seoul Metropolitan Government, LBank Labs aims to contribute to the development of the blockchain ecosystem in Korea and beyond.
About LBank
LBank is one of the top cryptocurrency exchanges, founded in 2015. It provides users with professional financial derivatives, expert asset management services and secure cryptocurrency transactions. The platform has more than 9 million users from more than 210 regions around the world. LBank is a cutting-edge platform that ensures the integrity of user funds and aims to contribute to the global adoption of cryptocurrencies.
Start trading now: lbank.com
Community and Social Media: Lift telegraph Lift Twitter Lift Facebook Lift LinkedIn Lift instagram Lift youtube
touch
Global PR Director
Jeremy Vanderhagen
L Bank
(email protected)