CoinMarketCap released its global cryptocurrency market report for the first half of the year. The report delves into the overall market overview, recent key events, and key themes expected for the second half of the year.
Today, CoinMarketCap, the world's leading cryptocurrency price tracking website, released its Cryptocurrency market analysis report for the first half of 2023.
Strong start to 2023 for cryptocurrency markets
This year, the encryption market ushered in an explosion, the price of Bitcoin doubled, L2 such as Arbitrum and ZK rose, and the NFT market showed signs of improvement. At the end of the second quarter, the global cryptocurrency market capitalization reached an impressive $1.17 trillion, up 48% year-to-date. However, the total market capitalization was similar in the first and second quarters, meaning that the growth in the second quarter was much less.
Instead, the second quarter was characterized by trends such as "memecoin" mania and the rise of BRC20 tokens, which, while notable, were not as exciting as the developments in the previous quarter.
Sentiment improved significantly by the end of the first quarter, with the CMC Crypto Fear and Greed Index hitting a neutral 52, a big improvement from 30 at the start of the year.
According to the CMC report, the total spot transaction volume of the top 20 cryptocurrency exchanges peaked in March, but fell by about 36% month-on-month.
fastest growing industry
Despite the challenging market environment, certain sectors have seen significant increases in market capitalization so far this year. VR/AR (704%0) and AI & Big Data (323%) beat expectations, while blue-chip decentralized finance (DeFi) projects appear to be making a strong comeback.
Since the beginning of this year, the "memecoin" boom has led to the addition of more than 260 new coins in the industry, of which artificial intelligence and big data ranked second, adding 61 new coins. DeFi ranks third, with 47 new projects added year-to-date.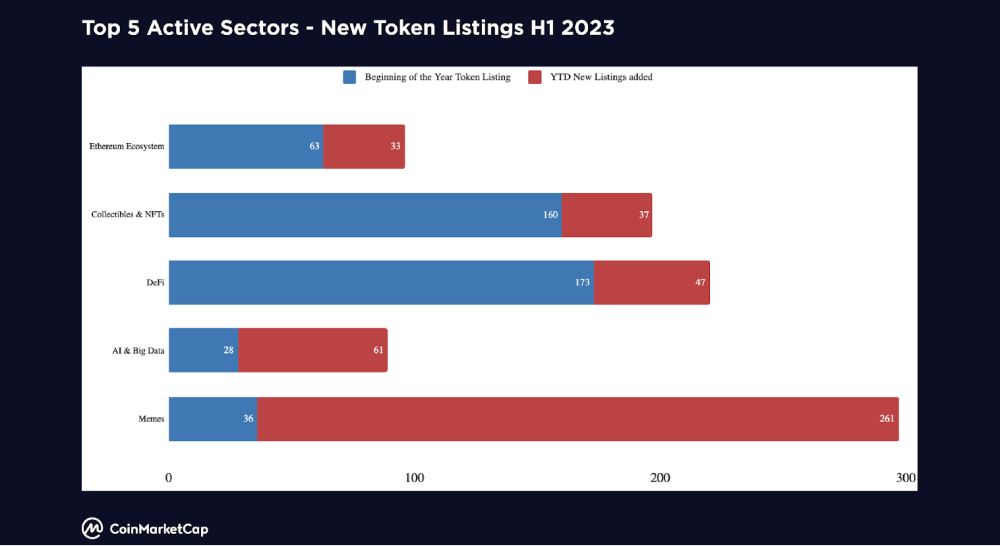 Development of Bitcoin and Ethereum
The top coins in the market, Bitcoin (BTC) and Ethereum (ETH), have experienced several events that resulted in significant price volatility.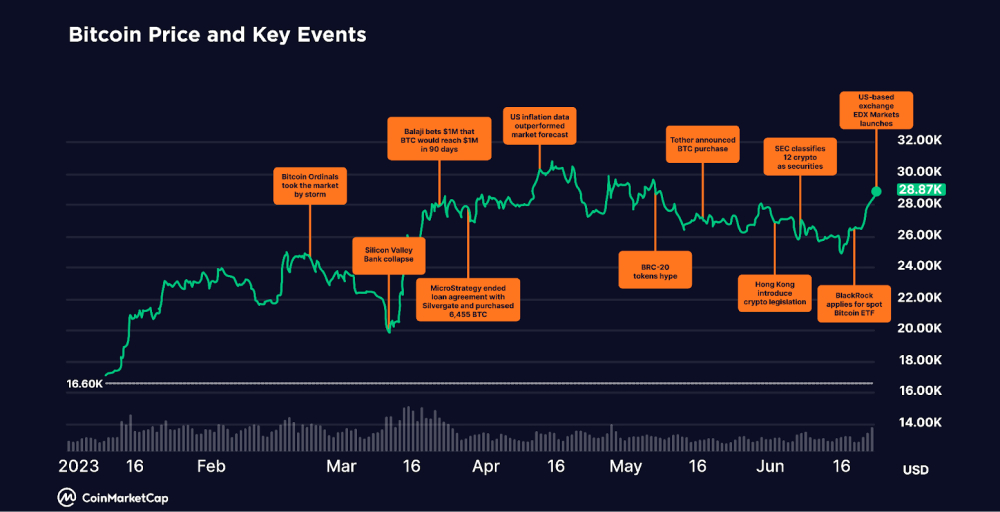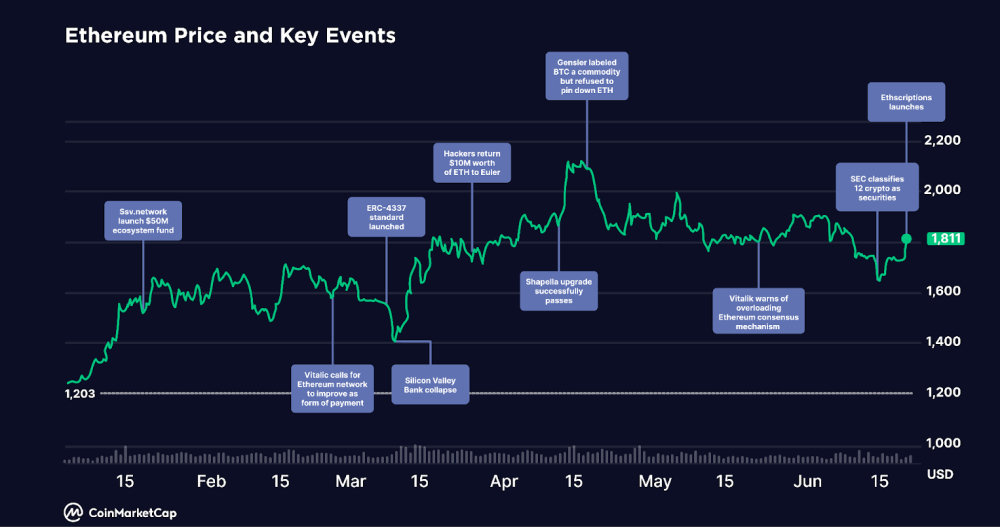 Top view of CMC
CoinMarketCap has seen a surge in opinion for the memecoin industry as $PEPE sweeps the industry. PEPE's explosive rise of more than 3,700 times from April to May sparked particular interest in the sector and added it to CMC's "Most Watched List." Memes also had the highest engagement CMCCommunity.
In the first half of this year, the DeFi field continued to receive attention and became the second largest field of attention. Most of the industry interest was in Terra Classic (LUNC), with Binance burning 2.65 billion LUNC tokens, worth approximately $236,000.
With the launch of OpenAI's revolutionary ChatGPT, AI and Big Data certainly mark the year 2023, and this is reflected in the views.
best performing coin
Arbitrum ecosystem tokens like Pendle (PENDLE) and Radiant Capital (RDNT) and Optimist ecosystem tokens like Velodrome Finance (VELO) appeared to be some of the biggest gainers in the first half.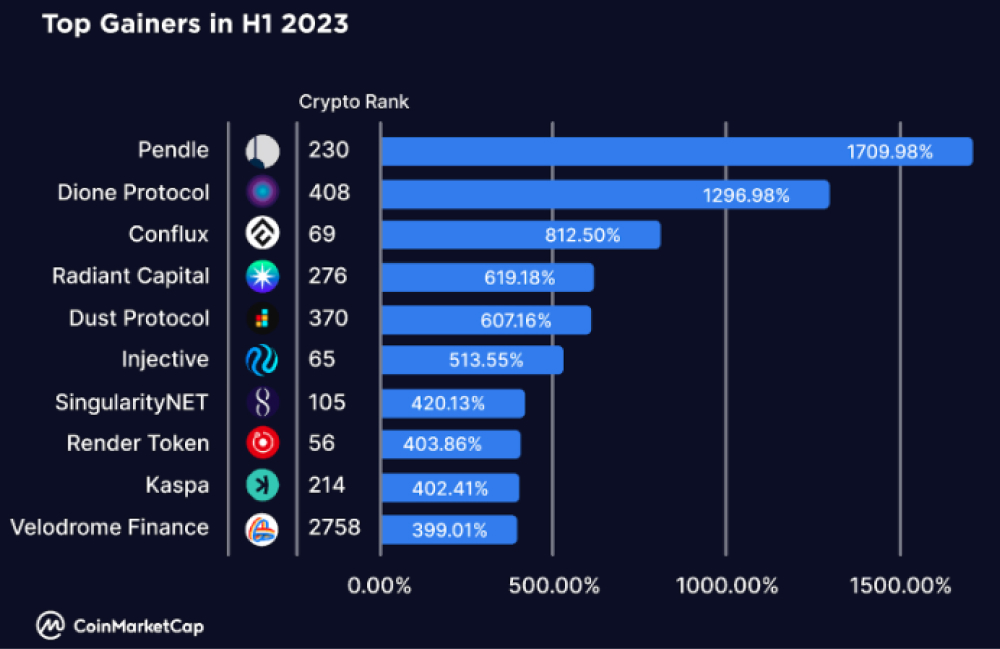 Other blockchains with the biggest gains include layer one blockchains including Dione Protocol (DIONE), Conflux (CFX) and Injective (INJ). AI-related tokens such as SingularityNET (AGIX) and Render (RNDR) are also doing well.
Key themes for H2
CoinMarketCap has identified key themes for the second half of 2023.
Bitcoin ETFs
The cryptocurrency news cycle has been dominated by discussion of a Bitcoin ETF of late, after BlackRock, the world's largest asset manager, filed with the SEC for a Bitcoin spot ETF application. News of BlackRock's filing prompted a host of other firms, including Valkyrie, Fidelity and 21 Shares, to announce they were also seeking ETF approval.
The SEC has not approved any applications. If regulators approve these ETFs, they could unlock significant investor demand by offering regulated asset allocation products.
Decentralized public infrastructure network
One of the key themes of H2 is Decentralized Physical Infrastructure (DePIN). DePIN is still in the early expansion stage and aims to provide solutions for access sharing of physical assets or services such as warehousing and data networks.
Real World Assets (RWA)
The tokenization of assets has become a growing focus of the crypto asset industry. Projects focused on making RWA tradable on-chain primarily consist of credit market protocols like Maple Finance and Goldfinch, allowing businesses to use DeFi to obtain financing and loans.
Liquid Staking Derivatives (LSD)
Liquid Stake Derivative saw a sharp increase in activity in the first half, largely due to Ethereum's Shapella upgrade. Market leaders such as Lido and Rocket Pool have seen TVL increases of 138% and 220%, respectively.
As of the end of June, the LSD platform had acquired more than one-third of the total value of Ethereum pledged.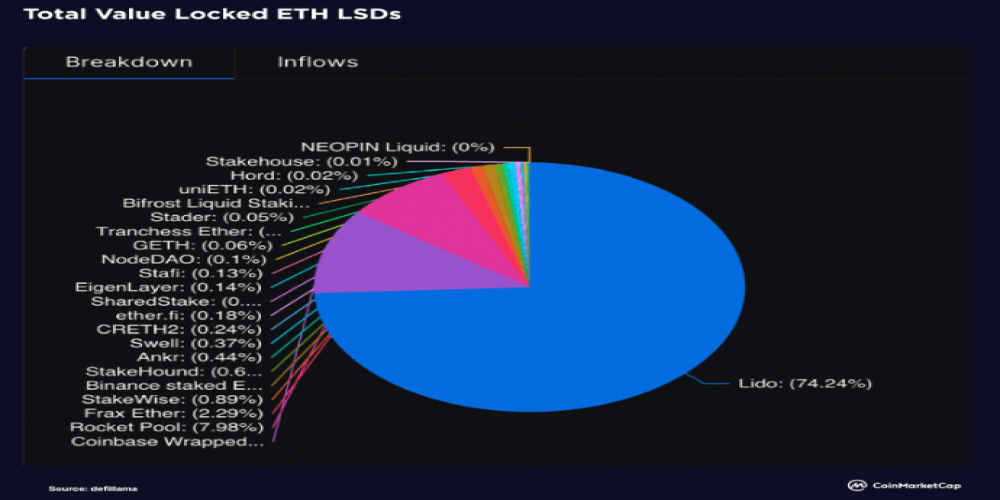 re-bet
The launch of EigenLayer—a middleware platform that allows staked ETH or liquid staked ETH tokens to be reused on the consensus layer—prompted restaking as an emerging theme in the first half of the year.
After EigenLayer's re-hypothecation smart contract was deployed, the demand for re-hypothecation reached its maximum limit within a day of mainnet launch.
Zero Gram Synchronization
zkSync is a zero-knowledge rollup solution that emerged as a popular Ethereum-based layer-2 solution and a strong competitor to Ethereum's optimistic rollups, including Optimism and Arbitrum.
zkSync utilizes zero-knowledge techniques to offload traffic from Ethereum to an efficient second layer, helping to increase Ethereum's throughput while enabling a range of new applications.
Modular Blockchain (Celestia)
Most layer-1 blockchains are monolithic chains, which create efficiency issues due to the blockchain trilemma of decentralization, security, and scalability.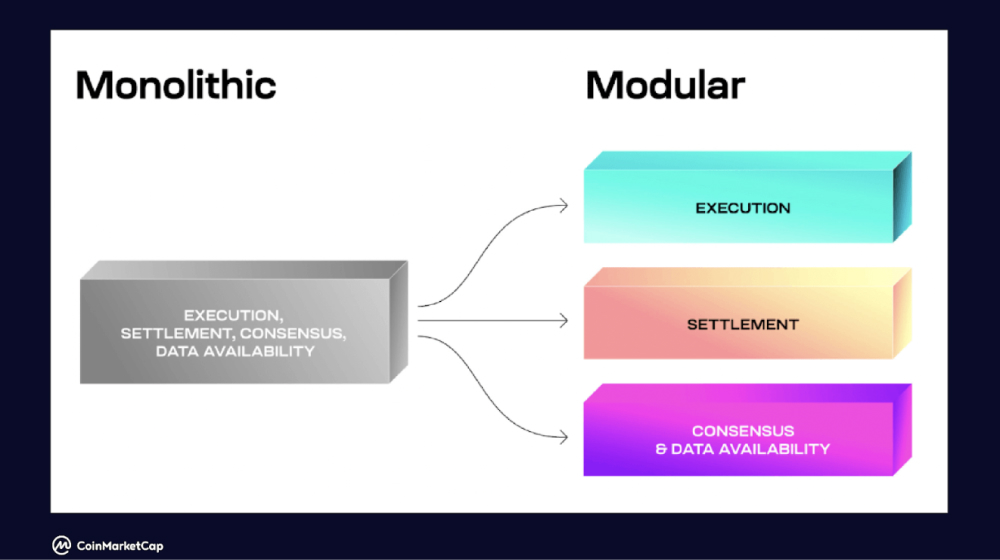 Modular blockchains like Celestia solve these problems by dividing the blockchain into three layers: execution, settlement, consensus, and data availability. In the process, modular blockchains provide developers with a modular data availability and consensus layer that dApps and sidechains can leverage to bootstrap development.
FTX Bankruptcy Dynamics
After FTX collapsed, its depositors were uncertain how much of the nearly $9 billion shortfall would be recovered in the liquidation process.
In January, it was revealed that more than $5 billion in liquid assets had been collected, a figure that has since increased to $7 billion. The firm in charge of FTX's restructuring recently contacted creditors, giving them a "client deadline" of September 29, 2023.
However, debtors will not receive payments until at least the second half of 2024.
Bitcoin remains the most-watched cryptocurrency across all regions
Regional differences in interest in the various cryptocurrency industries are negligible. Bitcoin continues to be the most viewed cryptocurrency across all regions in H1 2023, similar to Q4 2022 figures. Bitcoin's dominance over altcoins rose from 40.09% at the beginning of the year to 50.39% at the end of the first half, an increase of 25%.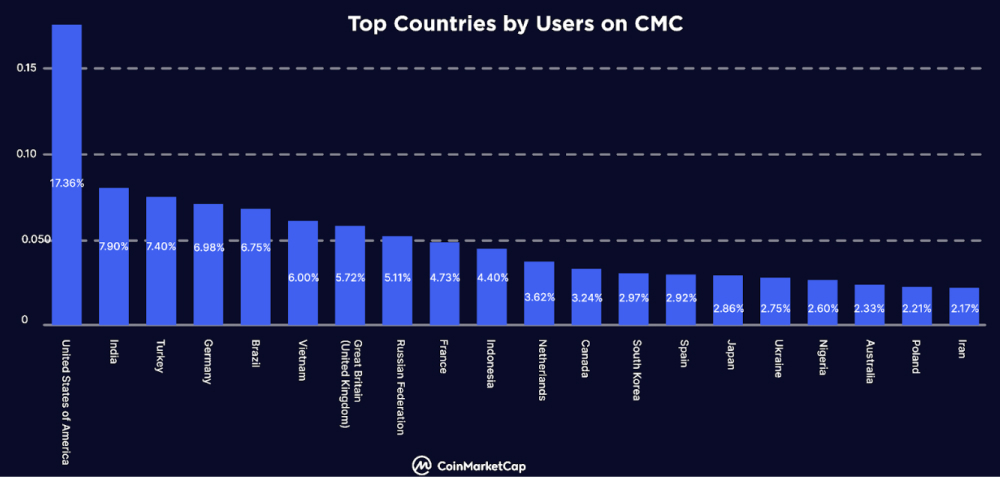 As expected, the United States continues to dominate the distribution of cryptocurrency users worldwide.
Disclaimer: This article is for informational purposes only. It does not provide or be intended to be used as legal, tax, investment, financial or other advice.